European End to End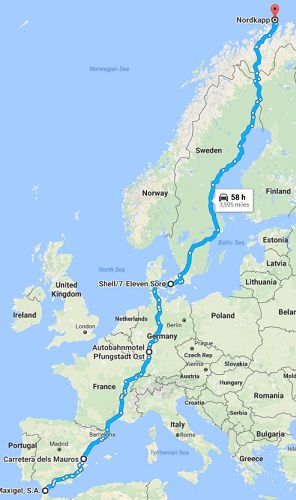 This ride is a multi-day challenge, with three levels to suit the rides LD riding ability. Planning the route and managing their ride time, sleep and fatigue is an important factor for success.
The two furthest points North and South on mainland Europe drivable by road.
Nordkapp, Norway, 71.169466, 25.783198
Tarifa, Spain, 36.008538, -5.606893
The ride is classed as Extreme at the three Levels which are categorised by time taken to undertake the ride.
Insanity Gold less than 66hrs
Insanity less than 72hrs
End to End less than 78hrs

The full rules and rider guidance documents are here.

Specific Rules (see above though)

The ride can be North → South or South → North
NO ferries are allowed you must use the bridges which cements the fact you have ridden the whole distance.
Any route through Europe can be taken.
Receipt photos including live odometer are required at the Start and Finish.
Photo of you & bike needed at Start and Finish.
Fuel receipts from closest Fuel Stations (70.999251, 25.968748; 36.018933, -5.608950)
Fuel receipts are required every 350 miles (564 km) Max
Copenhagen Bridge receipt is required
Denmark area fuel receipt is required

Additional Information

This ride has been completed on one of the longest practical distances at Insanity Gold Level (<66hrs) with fuel stops every 300 miles (483km) Riders can Plan a shorter distance and take advantage of a longer fuel stop 350 miles (564 km) Max