The Iron Butt Association Mile Eater program acknowledges members who complete multiple certified rides. There are different levels of Mile Eaters, each one more difficult than the last and clearly identifying hard core riders: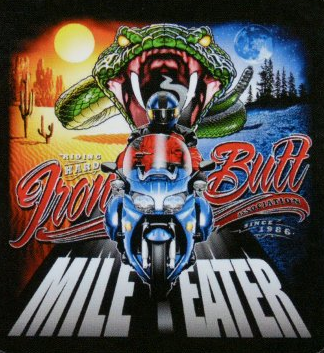 To apply send an email to Philip Weston President@ironbutt.co.uk listing your completed rides. Include
Full name and address
Contact Telephone number
Email address
List of rides to include; Date, ride type, bike ridden, IBA number.
Please head your email with "Mile Eater Application"
Payment will be asked for via Paypal when verification is complete.
Visit www.ibaestore.com for new Mile Eater items. (Mile Eater shirts from between $19 and $24 depending on size and sleeve length; Mile Eater Stickers Set of 3 for $3; Mile Eater Pin $7)