2020/2021 Solstice and Equinox Certification Program
The Winter Solstice will soon be upon us (and for those of you in the southern hemisphere, the Summer Solstice) and with it a new series of Solstice/Equinox certifications to celebrate each of the seasons.
Available in miles, kilometer and kilometre versions for rides up to 48 hours in length (1000, 1500, 2000, 1600K, 2000K and 2500K versions) that take place either starting, during, or ending on a Solstice or Equinox.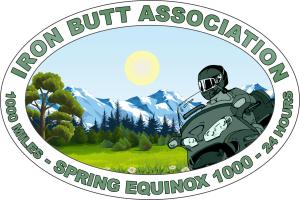 The Spring Equinox celebrates the lush greens of Spring with the sun at the mid-point of the sky, snow capped mountains remind us winter has still not let go.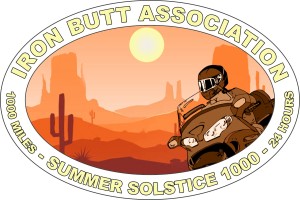 The Summer Solstice celebrates the long, hot days of summer with the sun at the high point of the sky.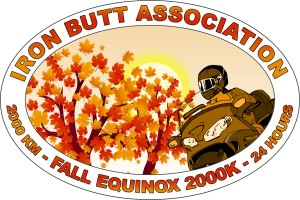 The Fall Equinox reminds us the seasons are changing with the leaves changing colours and the sun at the mid point of the sky.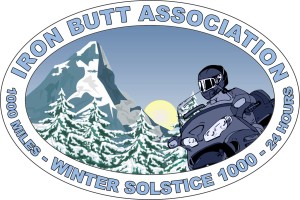 The Winter Solstice - the toughest of the series for most riders to earn - reminds us although the temperatures are frigid, longer days are on the way with the sun at the low point of the sky today, but a bit higher in the sky each day.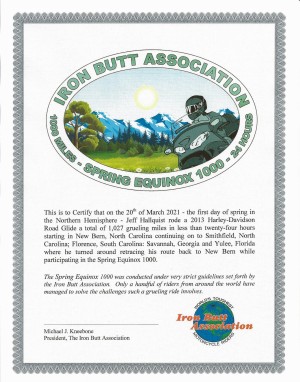 Full size version Spring Equinox 1000 certificate
BE CAREFUL checking your ride dates. The timing of the solstice/equinox vary where your ride may be taking place - several riders totally missed the time line on the 2020 Fall Equinox assuming it was on September 21, 2020, but for most of the world the Fall Equinox was on September 22, 2020. Additionally almost universally New Zealand is a day ahead of the rest of the world - if you are not sure, check the date time and your ride location before you start your ride.
Refer to Solstice Ride Documentation requirement for more details on the standard SaddleSore rides. All normal ride rules, and ride certification requirements remain the same as always (this is a specialty SS1000/BB1500).
This is a certificate only program (no pins or patches are available at this time) for the standard certification fee of £25.
These inspirational astronomical ride logos were created by IBA Mexico President Marco Alamarz who endured hundreds of hours of try this, move that, change this - never giving up until he crossed the artisic finish line. Thank you Marco!
Four Seasons award
For those that complete a certified Solstice or Equinox ride on each of the four astronomical events are eligible for the Four Seasons Award.
You do NOT have to complete the rides consecutively and there is no time constraint - you can do them over several years. You may also mix rides but your certificate will read the lowest of the rides in the series, for example, if you do 3 BBGs but winter stops you cold with a 1,000 miler, we would issue the Four Seasons 1000 version (but note the BBGs). Of course, if you do all BBGs, you would get the Four Seasons BBG certification.
More information can be found at: Four Seasons award requirements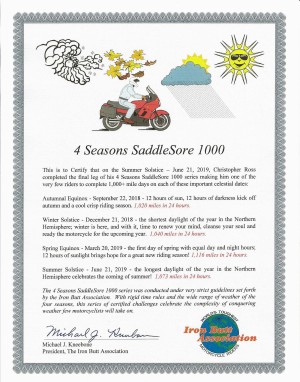 Full size version Four Seasons certificate