Brit Butt Rally - 17th-18th September 2022
Probably the toughest motorcycle rally in Great Britain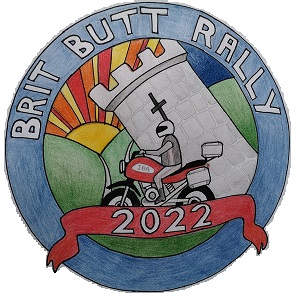 The rally itself will cover the whole of England, Scotland, and Wales.
The entry fee is £85 and £20 for a pillion. The entry fee includes the start and end meals. You will also get a commemorative t-shirt , rally book and rally flag along with a goodie bag. Every finisher will get a certificate of recognition.
Entry is now open and, having read the rules, you can sign up here.
The Brit Butt Rally follows the same basic format as the biennial 11 day 11,000 mile Iron Butt Rally in the USA. Put simply, from the Rally Book, choose your own route to ride around the country photographing landmarks and accumulating bonus points. Bonus locations will be spread far and wide; there will be places close to the start, at all corners of Great Britain and everywhere else in between. Sleep in hotels, at home, a tent or park benches, it's up to you. The details of the bonus locations and scoring strategy remain secret until the night before the rally.

The Rallymaster in 2022 is Mark Fowler.

Read about it from a rider's point of view
Click here to see results of BBR 2021 (Search 'BBR21')
Please note: Safety is paramount. This is NOT a race and we do not condone speeding or reckless riding. It is all about planning an efficient route and then riding your planned route in order to return safe and sound. Ride as far as you feel capable of, the main emphasis is fun on two wheels (or three).
COVID-19
This rally has been designed as a Covid-safe event.