36 hour Brit Butt Rally - 25th-28th May 2018
Probably the toughest motorcycle rally in Great Britain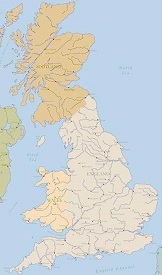 The Brit Butt Rally follows the same basic rules as the biennial 11 day 11,000 mile Iron Butt Rally in the USA. Put simply, from the Rally Book, choose your own route to ride around the country for up to 36 hours photographing landmarks and accumulating bonus points. Bonus locations will be spread far and wide; there will be places close to the start, at all corners of Great Britain and everywhere else in between. Sleep in hotels, at home, a tent or park benches, it's up to you. The details of the bonus locations and scoring strategy remain secret until the night before the rally.
The rally itself will cover the whole of England, Scotland and Wales and a good score can only be achieved by putting together combination bonuses.
You will need to arrive on the Friday afternoon (25/05/18) at Rally HQ, the Premier Inn, Fosse Way, Leicester, in order to register and complete a few checks. An evening meal will be followed by an explanation of the format of this years event (yes, it will be different) and the issue of rally books. After the final briefing you can retire to your hotel rooms to plan your route and get some rest prior to the start at 06:00 the next morning. During the course of the rally you will be required to take some rest/sleep, you will lose bonus points if you do not take any. On Sunday afternoon (27/05) you must return to Rally HQ by 18:00 at the latest where scoring will be completed. When this has completed you are invited to take part in the celebratory evening meal and prize giving that will take place in the hotel; optional storytelling in the bar afterwards will also be available. Monday 28/05 is a Bank holiday, so after a well-earned sleep and a leisurely breakfast you can say your goodbyes and head for home.
The Rally Master in 2018 will be Steve Eversfield (3 times Iron Butt Rally veteran). For this event there will be a radical shake up in how it is scored. It will be paperless. The absolute essential requirement to take part in this rally is a smartphone, that and ability to use the camera and send a photo. If you do not own a smartphone, or know how to use one, then there is no point in entering. If you do not own one, but still want to enter, then I suggest that you get one soon and start practising with it.
The procedure for scoring will be for the rider to take the bonus picture, meeting all the stated requirements in the bonus list, and then send it to an e-mail address that will be supplied. On receiving it the scorers will check whether it meets the stated criteria, if it does then the rider will be scored accordingly. The rider will not have to do any paperwork to claim points, once they cross the finish line their rally is over, their score will have been calculated. This is new, however, if smartphones had been around when long distance rallies started then I do not think that we would have playing around with cameras and bits of paper.
As part of the entry procedure you will have to send a photo of yourself, from your smartphone, to this address, thebbr1881@gmail.com , we'll call it practice.
Good luck, start worrying, and yes there is a clue in the rally title 'BBR1881'. Choose your own pace and you'll have a fantastic time visiting places and riding roads that you never knew existed.
Please note: Safety is paramount. This is NOT a race and we do not condone speeding or reckless riding. It is all about planning an efficient route and then riding your planned route in order to return safe and sound. Ride as far as you feel capable of, the main emphasis is fun on two wheels (or three).